Since I just happened to get this phone for myself recently, I have become more and more intrigued about the possibility of adding videos to this awesome device. There are multiple ways to do this (and perhaps I will post them all eventually), but today we are going to use Handbrake.
Step 1)§
Rip your source. I have several tutorials on how to do this, so I trust you can do this on your own.
Step 2)§
Load up Handbrake and select your source, like what I have done below.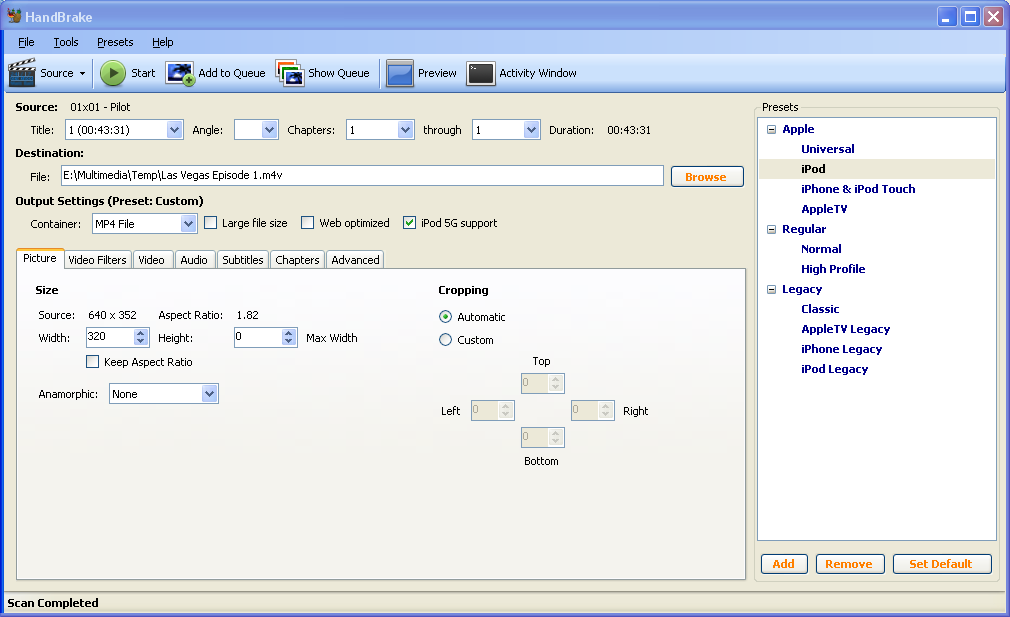 Step 3)§
Now, we are going to create our own profile for easier conversions later on. First, select the Ipod profile from the profiles list on the right hand side. Under the picture tab, look at the Size area. If your source is greater than 848 pixels wide (like HD material, such as a Blu-ray or HD TV show), then enter 848 into the width box. With the Keep Aspect Ratio checkbox selected, Handbrake should fill out the height for you automatically.
Now, if your source is less than 848 pixels wide (such as a DVD), go ahead and enter a resolution that you feel is appropriate. It is usually safe to stick with the source resolution (640 pixels wide in this example), but you can use less if you like. Depending on the player that you use, the picture will automatically zoom to fill the screen. I've even seen it work just fine with a 320 pixel wide video before, so you can use that if you want to save on space and don't care about the quality loss.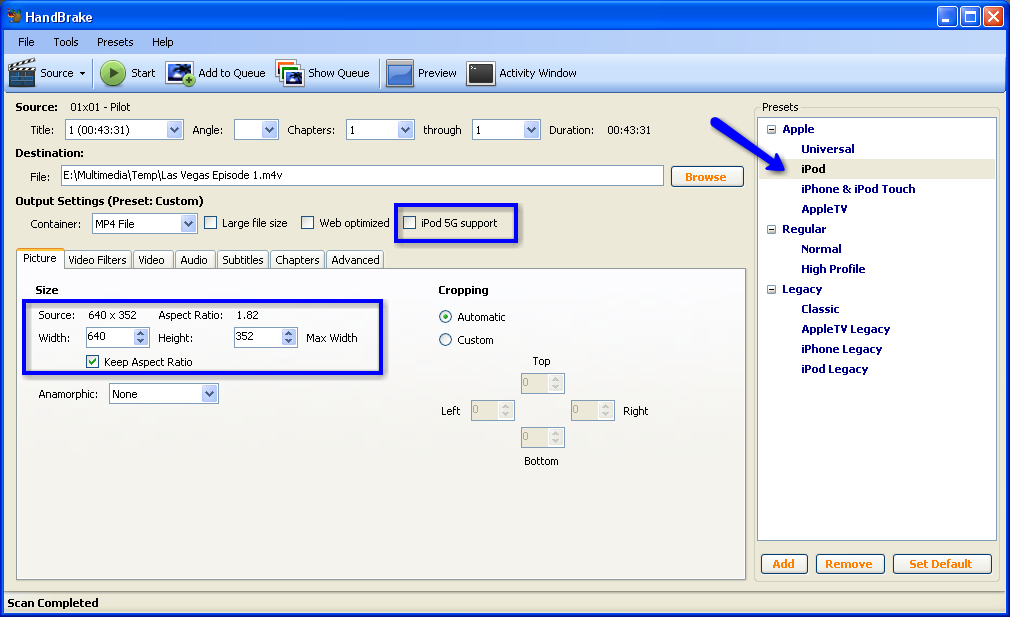 Note: Turn off "iPod 5g support", as your Droid is not an iPod and this option is unnecessary.
Step 4)§
Shoot on over to the Video tab, and edit the bitrate so that if falls in between 500-1500 kbps. 1000 is usually just fine, as you can see here, but if you want to go more or less that is your choice. Just remember that with more bitrate comes greater quality, but a larger file size as well.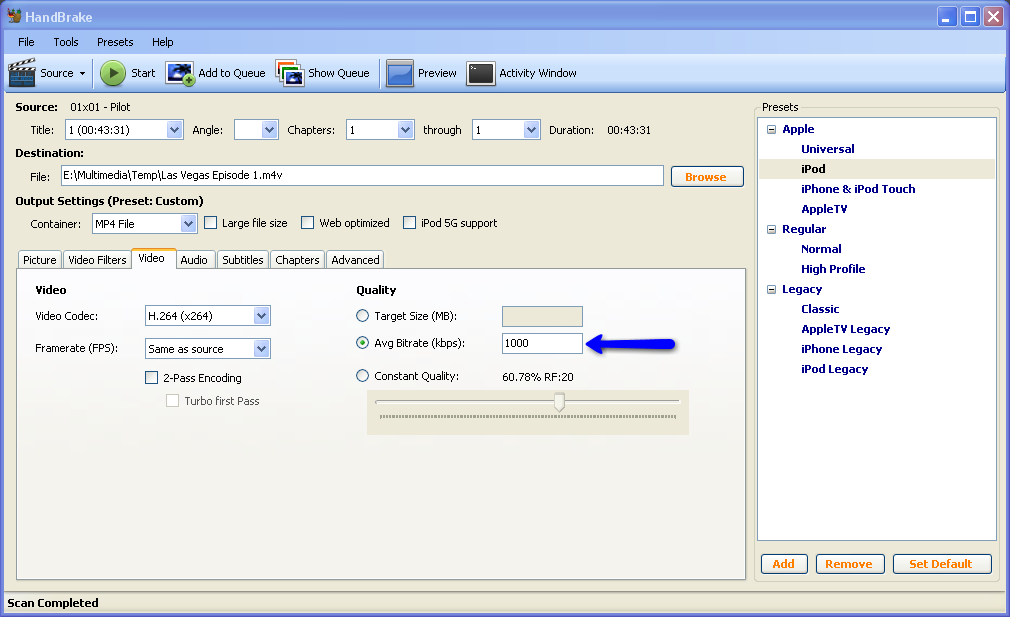 Note: If your source is a DVD folder, you may want to switch to the "Video Filters" tab and turn on Detelecineand Decomb, as your source is probably telecined.
Step 5)§
Using the small Add button in the bottom right hand corner, add your new profile and label it something appropriate (Droid in this case). Now, you will be able to load and encode videos much faster since you have saved your settings to a labeled profile for easy selection.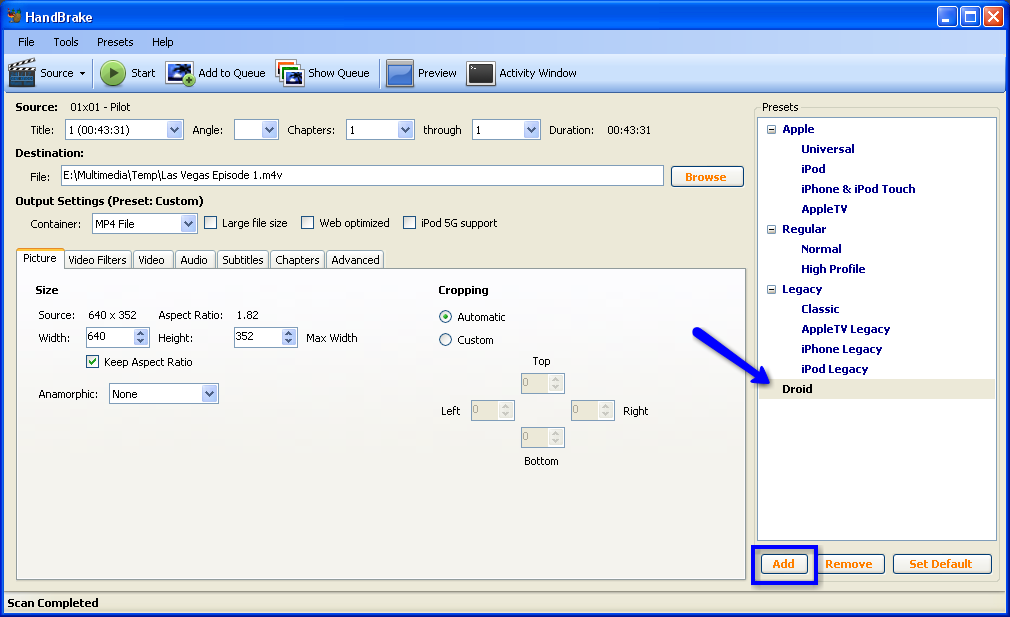 Step 6)§
Hit the Start button, and wait for your movie to encode. Most movies will usually take around 40 minutes depending on how powerful your computer is, so don't be surprised if it takes longer.
When that has finished, mount your Droid using the USB cable that came with the Droid. When you plug it into your computer, your Droid will ask you if you want to mount the SD card. Press the Mount button. Now you will be able to access your SD card via My Computer.
Open up your freshly mounted SD card and create a folder called "Videos" or something. Drag and drop your freshly encoded video into this folder and your done! Simply unmount your SD card and disconnect your Droid. You can access your videos through the "Gallery" application. Some people also like to use an app like Act1 Video Player. It costs money, but some people love it. I leave that choice up to you, as I have found that the default player works just fine for my needs.