Here's another one for the books! The great author of BD Rebuilder has just added another excellent feature to the already stellar Blu-ray backup program. iPad conversion. That's right, you read the correctly. Now, with just 1 extra click, you can convert your Blu-rays to an iPad friendly format. Let me show you how.
Step 1)§
Before you begin make sure that you have ripped your Blu-ray to your harddrive.
Start up BD Rebuilder. Make sure that you have all of its necessary programs installed (Avisynth, Haali's Media Splitter, FFDShow). You should see a window like the one below.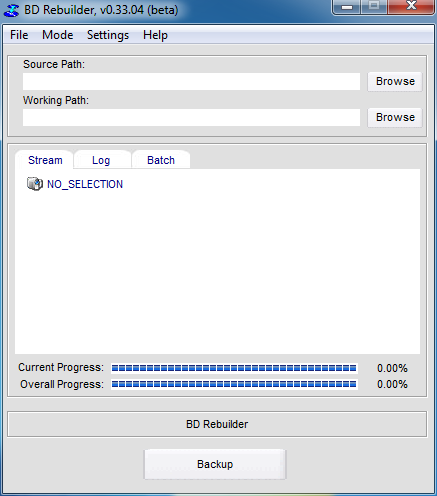 Step 2)§
Navigate up to the Mode menu up at the top of BD Rebuilder's main window. Select the Movie-Only Backup option from the drop down menu.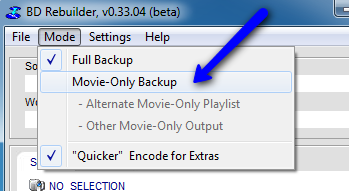 Step 3)§
Now, click on the Other Movie-Only Output menu entry, like I have shown below.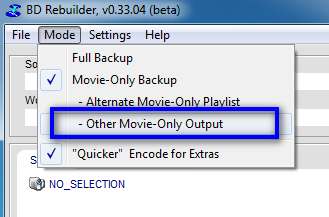 Step 4)§
You should see a window like the one below. Enable the iPad MP4 HD profile that I have highlighted at the bottom, and then set your desired CRF value. The CRF value is essentially a quality vs. size ratio. The lower the CRF value, the greater the quality and filesize. The higher the CRF value, the lower the quality and filesize. You get the idea.
You can either leave the CRF at default, or enter your own preferred value. When you are finished, click Save.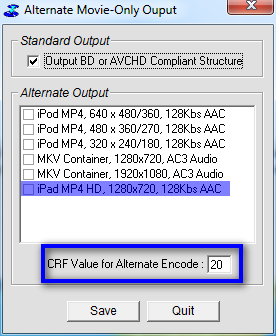 Step 5)§
You should now be at the main window again. Use the Sourcepath to select the folder that contains your Blu-ray's BDMV folder, and the Workingpath to select your output/workfiles directory.

Step 6)§
When all is said and done, the BD Rebuilder will look something similar to the following screenshot. When you are ready, click the big and beautiful Backup button.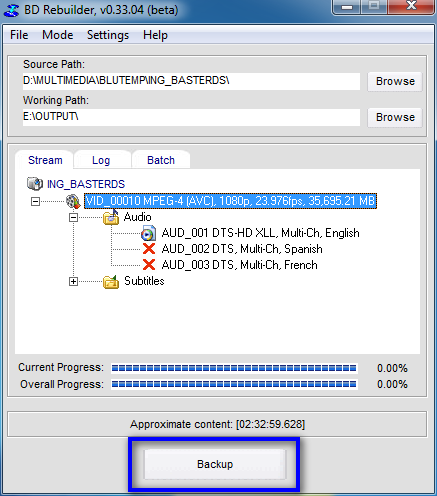 Conclusion)§
As you can see, BD Rebuilder greatly simplifies the whole conversion process for you. Feel free to experiment with any of the parameters and let me know how it works out for you in the comments!