Okay, since I know a lot of people visiting this blog are completely new to backing up their media, I thought I would take a couple of minutes to sit down and talk about one of the easier ripping programs to use.
That program is AnyDVD.
Now, it's not free. It's about €79.00 or $105.00 for a 2 year subscription (yeah, I know, expensive huh?), but that varies as they have sales all the time. However, for something that is simple, easy to use, and readily updated, it's a decent deal.
AnyDVD adds a sort of decryption layer to your operating system. What this means is that when you place a disk into your disk drive, AnyDVD will "intercept" the disk, scan it, remove all the protections it can find/handle, and present a "clean" disk to the operating system.
This then means that you can completely drag and drop the files from the disk onto your desktop and you have fully decrypted files just sitting there in your folder for you. Well almost. Sometimes there comes a time when you actually need to perform a full on rip*,*and for that you need to use the "Rip to hard disk" option of AnyDVD.
Here is how you do it, and for those of you who like screencasts, click here.
First, place the disk into your disk drive. Make sure that AnyDVD is actually running. You will see a small window appear like this:

After it has finished scanning your disk, the bubble will fade away. You can check to make sure that the disk is actually decrypted by hovering your mouse over the fox icon. You will see something like this:

Note: The "On: 1" part is telling you that you have 1 disk that is ready and decrypted sitting in your drive.
Next, right click on the fox icon. You will see a menu like the one below. Click on the "Rip Video DVD to Hard Disk" option.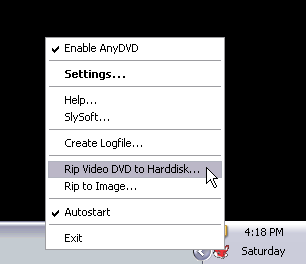 Once you have clicked the "Rip Video DVD to Hard Disk" option, you will be presented will a small, simple dialog box. Select your output directory by clicking on the folder icon like so: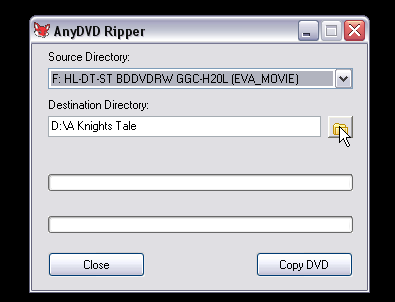 You will be presented with another dialog box. Use it to navigate to your desired folder.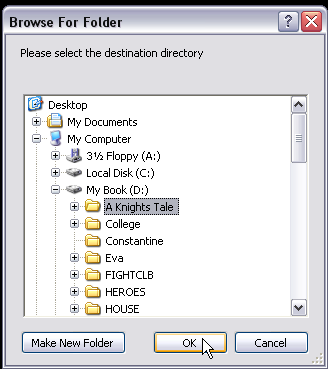 Next, click the "Copy DVD" button.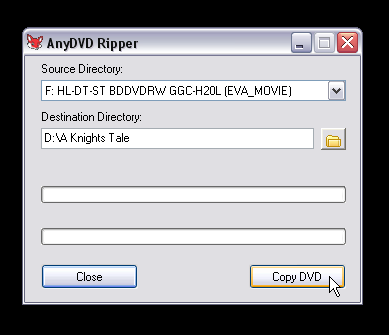 The rip begins!! You can abort at any time if you so desire, and at the end of the progress bar, you should have a full fledged, working copy of your disk waiting on your hard drive.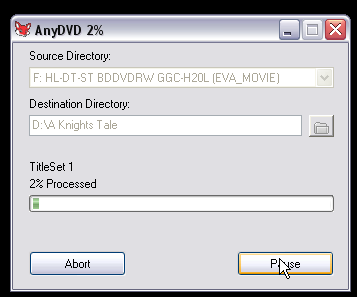 That's it! Simple huh?
AnyDVD really is an excellent program for what it does. It doesn't have a lot of feature bloat, and can be incredibly fast.