For those of you who have been following along with this site, you may remember that I promised you some Mac tutorials to go along with the abundance of Windows tutorials that I have published. Well, here is my first Mac-based tutorial!
It's about the use of the free software Burn and it's uses in converting media files to DVD.
Getting Started§
Okay, so first off make sure that you have a fresh copy of Burn. Install it, and open it. You will see a window like the one below. Now, as some of you may have noticed, I have the "Video" tab selected. This is the tab that we want if we want to use Burn's DVD conversion features.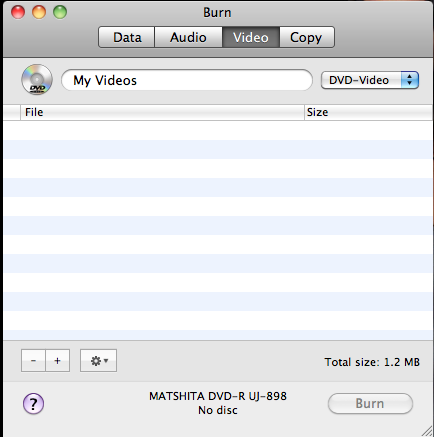 Setting Preferences§
Now right off the bat, Burn's defaults can be a little...paltry. So, let's spice things up shall we! First off, in the dropdown menu just to the right of the project name, select "DVD-Video".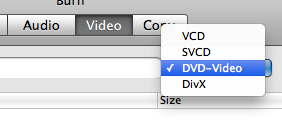 Now, let's edit Burn's internal preferences. Open up Burn's preferences by either pressing "Command + ," or going up to Burn's context menu and clicking "Preferences".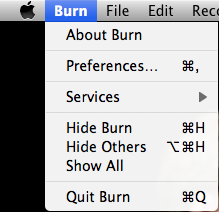 Now, you should see Burn's preferences window. Again, click on the "Video" tab. You will now see the window below.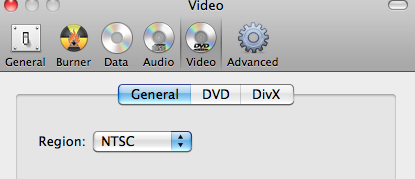 Set the "Region" setting to your specific DVD region (rule of thumb: US = NTSC, Europe = PAL).
When you have finished click over to the "DVD" sub-tab. You can leave most of these settings at default, but I went ahead and changed my audio codec to use AC3 (when is greatly more used than MP2). Feel free to change any of the other settings that you desire, such as looping the DVD (when the main movie finishes, it starts playback from the beginning) or forcing a specific Video/Audio bitrate (aka. quality).
In addition, you can preview what your output menu will be like using the dropdown menus and preview button at the bottom of the preferences window. I left mine at default, but feel free to experiment. When you are finished, simply close the preferences window.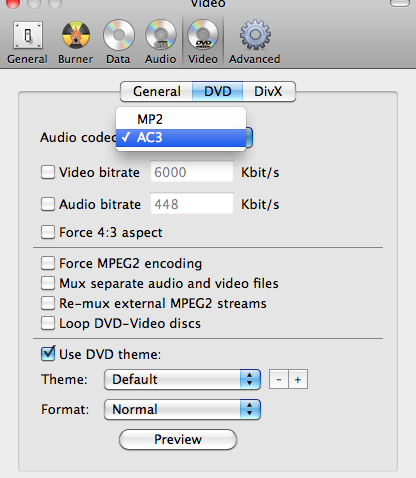 Adding Media§
Okay, now that we have everything properly configured, it's time to start adding our media files. You can do this in one of two ways: drag and drop, or using the '+' button found in the bottom left hand corner of our main window. Navigate to your file and add it to the compilation. In this case, I added an MKV file.
Burn recognizes that MKV files are not compatible with the DVD spec, and offers to convert the file for us. Go ahead and click "Convert".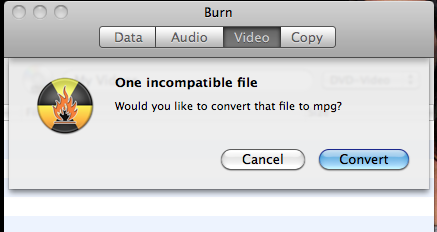 You will be prompted for a location to store the temporary files. I went ahead and told it to use my Desktop, but use whichever location you prefer. Once you are finished, click "Choose".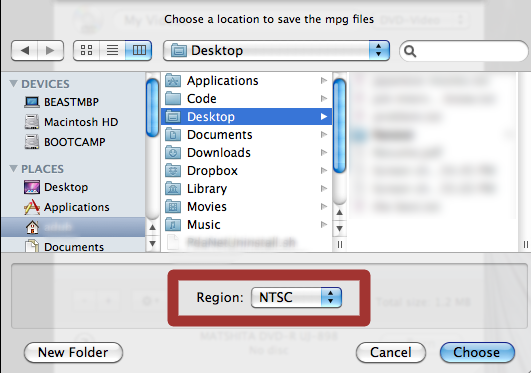 You will be presented with a progress bar like the one below. Simply wait for it to complete. The amount of time necessary for conversion depends on the power of your computer, along with the length of you media file. I converted a media file that was about 45 minutes long in about 7 minutes. Your results may very.
Rinse and Repeat§
Once you have added one media file, you can go back and add more media files if you so desire. I just wanted to convert one, so I'm going to go ahead and click the big "Burn" button in the bottom right hand corner.
You will be presented with a burning settings window like the one below. The defaults should be fine, but again, feel free to adjust to your tastes. When you are done click "Burn", wait a few minutes, and enjoy your fresh new DVD disk!

A Quick Note§
As some of you may have noticed in the comments below, it appears that Perian must be installed in order to convert MKV files to DVD.  It is also probably necessary for several other media formats as well. Perian is recommended in any event, as it allows you to play AVIs, MKVs and other video clips in any Quicktime-based media software.