A few weeks ago I showed you how to backup your Blu-rays using BD Rebuilder. This week, I'll show you how to do it with an alternative program, AVCHDCoder.
AVCHDCoder is a decidedly different program than BD Rebuilder. It's feature set is much larger for one thing. For another, it can produce Blu-rays from non-Blu-ray sources. This is highly useful in the creation of AVCHD disks from home videos and the like. But that is for another tutorial. Today we are just going to be backing up our precious store-bought Blu-rays.
Let's get started.
Step 1)§
Make sure that you have Java installed and the usual suspects (Avisynth, Haali Media Splitter, etc...)
Step 2)§
Make sure that AVCHDCoder is inBDMV-mode.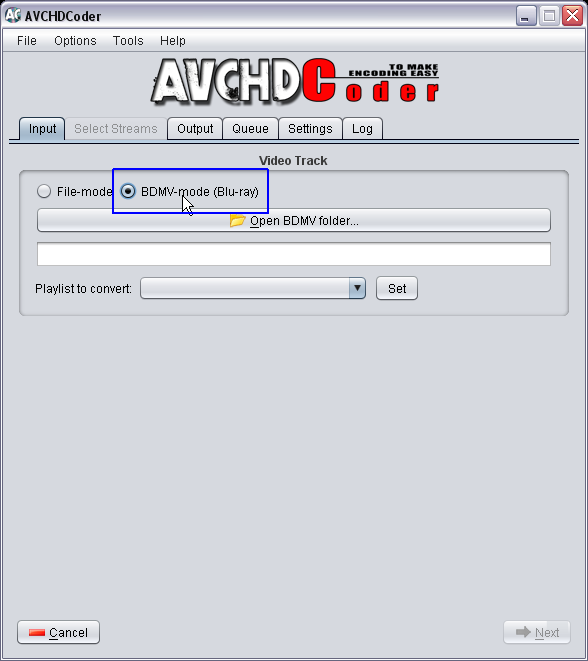 Step 3)§
Load your source and select the main movie playlist using the Playlist to convert drop-down menu. Press the Set button. Press Next if necessary.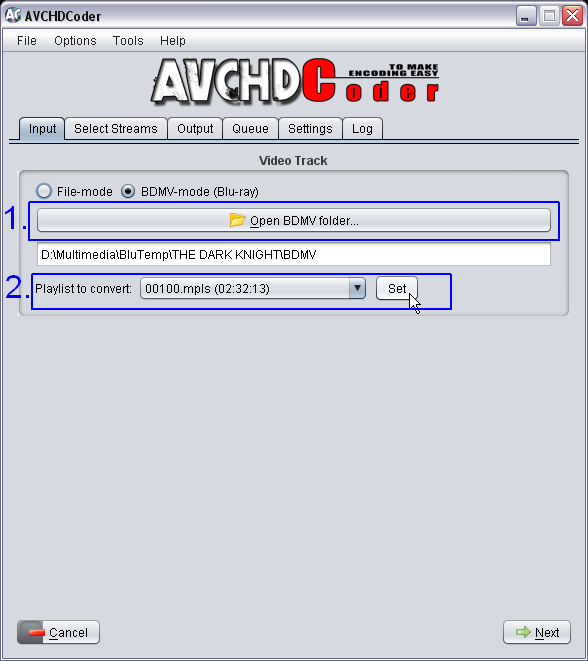 Step 4)§
You should now be on the Select Streams tab. Edit your streams until they represent your desired output. In this case I want to do a full resolution backup (1920 x 1080p), using just the first audio track and the first subtitle track. You can adjust your own settings or use similar versions of mine. Press the Add button when you are finished to add your Blu-ray to the final composition.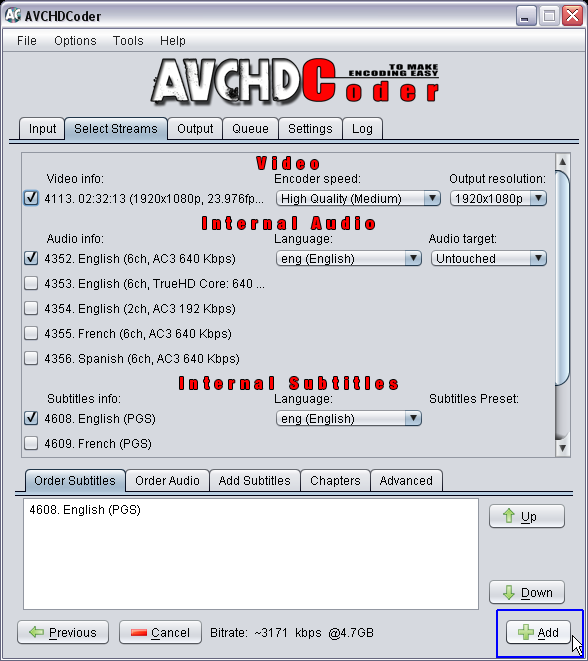 Step 5)§
You should now be on the Output tab. Select your destination size (a single-layer DVD in this case, because I'm cheap). Remember, a greater destination size allows for a higher bitrate and thus higher quality backup. However, make sure that you can properly handle your output size. For instance, if you were to select the BD-25 option, make sure that you have a Blu-ray burner and a spare BD-25 disk lying around, otherwise you will have to do your backup all over again.
Go ahead and title your disk if you want to (it's good practice, but I didn't show it in the screenshot below), then select your output settings. I'm going to burn this disk using IMGBurn when I'm done, so I went ahead and selected the ISO option to keep things easy for me.  Select your destination folder and check the Delete temp folder after conversion option if you don't won't to keep your temporary files (most people won't).
Lastly, click the Add to Queue button to finalize your settings and add the project to the encoding queue.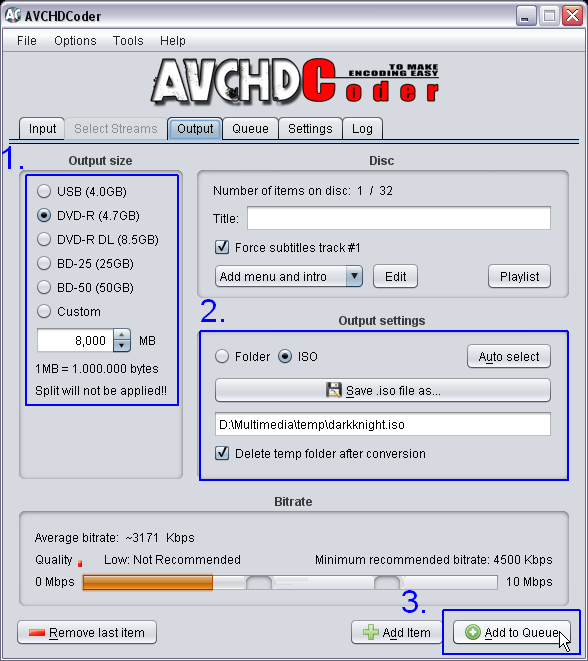 Step 6)§
Now, before you go ahead and start the encoding process, you may want to adjust the encoder's priority. You can do this by going up to Options->CPU Priority. Under normal circumstances when I am encoding something, I want to set the priority to Normal (like you can see in the screenshot). However, if you wanted to continue to use the computer while the encode process was going on, you may want to set it to something a little lower like Below Normal or Low. The reason you may want to use Normal is that it can result in a faster encoding process. It's your choice.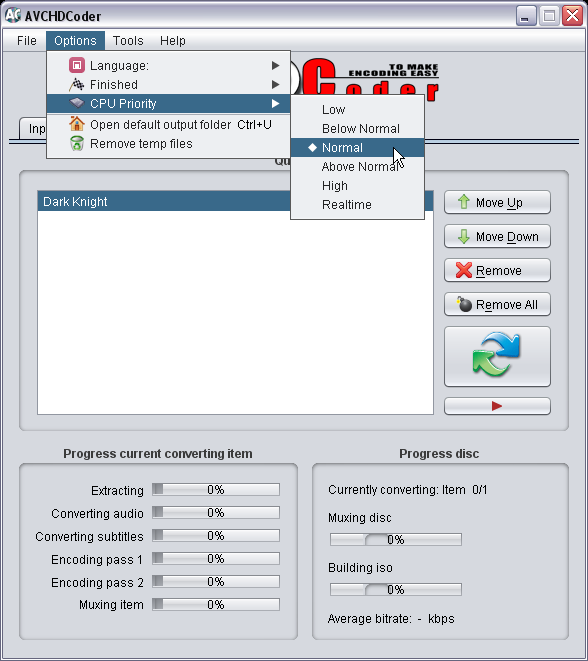 Step 7)§
Last but certainly not least, press the big, colorful Convert button. Then sit back and enjoy the ride while your computer does all the dirty work!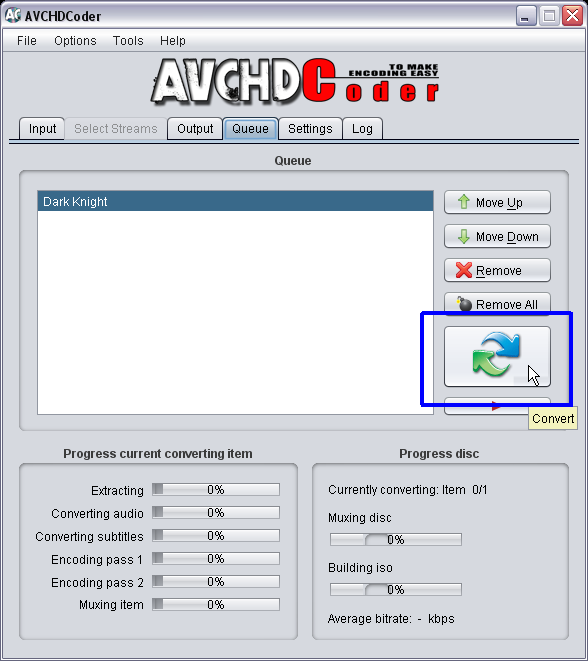 Conclusion§
Once your encode has finished, you can burn your ISO (or files) to a DVD or Blu-ray disk of your choice. There are a variety of programs out there such as the (FREE!) IMGBurn or Nero that will be able to burn your shiny new ISO file for you. Enjoy your very own Blu-ray backup!